ATTN! Cairo
African Teacher Training Network, ATTN!, is a private charitable educational organization that pairs refugee teachers and schools with internationally qualified instructors. We currently offer 1.5 year to 2 year teaching certifications for mathematics, early reading, and elementary reading in English.
As we grow and more volunteers join us, we will expand certificates, courses, and locations. Currently we are located in the beautiful neighborhood of Maadi in Cairo, Egypt, and we love the diversity and cultural strength of Cairo.
Elementary Teachers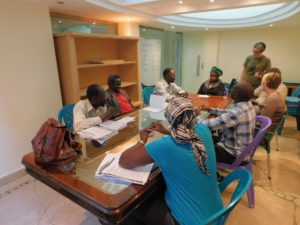 Do you want to study to be a better teacher? We offer regular courses in mathematics and English instruction. Keep up-to-date with the schedule on our events page, and track everything you need to know about ATTN! on our students' page.
We look forward to helping you teach your students, and grow as a teacher.
Master Teachers
Are you interested in volunteering to help other teachers improve their craft? Do you have a passion for excellent education? If so, please contact ATTN! to let us know how you can serve in training African teachers. Also, visit our ATTN! signup page to track relevant information
for teaching volunteers and you can signup for our volunteer's newsletter there as well.
Charitable Partners
Do you have a heart to give financially to support schools, teachers, or young students in Africa? Are you here in Egypt a
nd have items to donate? Do you live elsewhere in the world and want to support our work? Everything you need to know about supporting ATTN! is on our donate page including how to donate.
At the moment, ATTN! is working on tax-free status in the US and Europe, and we will update the website and our newsletter when we get official exempt status in different countries. So, please sign up for our donor newsletter via the Donate page.